The Camera Phone
The gadget that perverts, vigilantes, and celebrity stalkers can all agree on.
Ten years ago, Philippe Kahn was walking around a hospital with a cell phone and a digital camera. His dadly mission: to share pictures of his newborn baby girl. With an assist from Radio Shack, he linked the two devices together and e-mailed photos to family and friends around the world. The day marked a twin birth of sorts: the cell phone camera and daughter Sophie.
by Michael Agger.
LaCie Ethernet Disk RAID 2TB entry-level NAS box
Review Two terabytes of network-attached storage SATA-based RAID storage and an iSCSI desktop disaster recovery platform all within one small compact unit for under £900? Seems unlikely, yet LaCie, with a little help from its friends, appears to have pulled it off. Or has it..?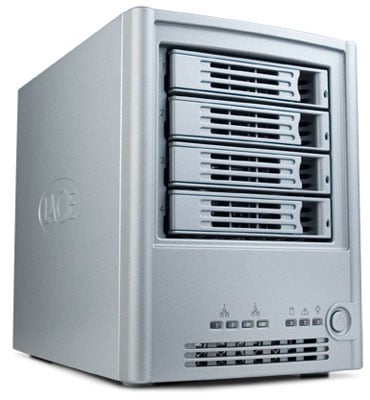 The imaginatively titled Ethernet Disk RAID is the first released result from LaCie's new storage partnership with Intel – a bold decision to move away from own-manufactured products to an OEM line built by a white-box builder. This premier product is intended to be a pro NAS box for a small- to medium-sized business, a marketplace in which Intel is already successful having launched the Intel Entry Storage System SS4000-E in March 2006.
by Rob Kerr.
If you've spent time in Terminal, more than likely you've made a typo or two—or two hundred thousand, if your typing accuracy is anything like mine! It's one of the banes of working in Unix—after years of point-and-click, having to type sometimes long and complex commands by hand leads to inaccuracies. And, sad to say, Terminal isn't nearly as lenient with my typos as are Word and my other text editors!
by Rob Griffiths.
Ultra-Dense Optical Storage — on One Photon
Researchers at the University of Rochester have made an optics breakthrough that allows them to encode an entire image's worth of data into a photon, slow the image down for storage, and then retrieve the image intact.
from PHYSORG.COM.
Apple's 802.11n accounting conundrum
Apple said Thursday that it plans to charge customers $1.99 for a software download that enables the 802.11n Wi-Fi technology currently present in almost all MacBooks and MacBook Pros with Intel's Core 2 Duo processor. The company says accounting rules known as generally accepted accounting principles (GAAP) force it to ask for money for the download.
by Tom Krazit.
Terratec makes DVB-T for Mac
MACINTELTOSH people are going to love it. Terratec just announced its Cinergy T and it supports Pro ExpressCard standard. This is a DVB-T and radio tuner card and it will be available at late January for €129.
by Fuad Abazovic.
Posted by toshiya on Jan 20 2007 under
Tech News
|
Comments Off

on Tech News: LaCie's new Intel NAS
|