PA Semi releases its chip
Welcome to our 1682M overlords
JUST OVER a year ago, we told you the tech details of the PA Semi PWRficient chips. Back then, it was mostly a simulation, real silicon was a bit further out, but the simulation it showed did boot Linux. Today the chips are real and you can buy them.
So, what is the 1682M? If you don't want to read the whole tech run through above, it is the first iteration of a family of multi-core PPC chips, this one being a dual core. It has a lot of system on a chip functionality, you need very little to make a complete computer as you can see from the Electra reference board below.
by Charlie Demerjian.
P.A. Semi samples new PowerPC chip
Yesterday, P.A. Semi announced that they're shipping samples of their hotly anticipated new 64-bit low-power, dual-core PowerPC design to select customers. The PA6T-1682M is the first in P.A. Semi's awkwardly-named PWRficient family of processors, and it boasts a remarkable combination of features, performance, and efficiency.
by Jon Stokes.
Scientists develop portable generator that turns trash into electricity
A group of scientists have created a portable refinery that efficiently converts food, paper and plastic trash into electricity. The machine, designed for the U.S. military, would allow soldiers in the field to convert waste into power and could have widespread civilian applications in the future.
from Purdue University news.
Creating A Bootable WinPE 2.0 USB Key
Windows Preinstallation Environment (PE) 2.0 is a slimed down version of Windows (hence all the MiniNT references) that used to be the exclusive domain of OEM's providers. Microsoft has wisely chosen to offer this to the masses as part of the Windows AIK. USB keys can be found just about anywhere these days for next to nothing. Combine the capabilities of WinPE with the portability of a USB key and you just made a very powerful troubleshooting, imaging, and data recovery tool.
from Josh's Windows Weblog.
VirtualBox On FC6 / CentOS 4 / OpenSuSE 10.2
InnoTek VirtualBox is a family of powerful x86 virtualization products for enterprise as well as home use. Not only is VirtualBox an extremely feature rich, high performance product for enterprise customers, it is also the only professional solution that is freely available as Open Source Software under the terms of the GNU Public License (GPL).
from Howtoforge.
I recently came into ownership of an iBook G4. The first thing I did was wipe it and install Ubuntu just for the hell of it. After a little while I got tired of the sketchy AirPort Extreme support so I went to use an old eMac Restore Disc in an attempt to put Panther on the iBook. No dice. The eMac disc wouldn't even boot. So I nabbed my roomy's iMac G5 OSX Restore disc. It booted on the iBook no problem, but then complained about the computer not being the right kind. Frustrated, I turned to Google.
from samsite.ca.
After a little trial and error, I managed to hack it and create an install DVD that should load on any PowerPC Mac.
from MacSlash.
Sun updates Solaris 10
As it tries to reclaim former Sun worshippers
New security features include Solaris Trusted Extensions, which protects sensitive data and applications using labeled security technology. Secure By Default Networking automatically configures a system to be impervious to network attacks by disabling many unused services, thus reducing the network exposure, while leaving the system fully functional for typical use.
by Clay Ryder.
Build a Windows Vista Upgrade Parachute
The purpose of this article is to guide you through the myriad options for upgrading to Windows Vista. My goal here is balance: I will not slavishly regurgitate Microsoft's hype, but neither will I join the growing army of Microsoft bashers.
My goal is to give you the information necessary to make the best decision for your particular circumstances.
by Guy Thomas and Barry Gerber.
Get a GUI for RoboCopy in Windows XP
If you're like most IT professionals, you probably use the Windows Server 2003 Resource Kit Tool called RoboCopy with Windows XP. RoboCopy is an extremely powerful copy tool that allows you to perform more advanced copy operations than with Windows XP's standard copy tools. For example, with RoboCopy, you can create mirror images of large folder tree structures on the same computer or on a network drive.
by Greg Shultz.
Shuttle XPC X200M mini PC
We gave a brief rundown of the Shuttle X200 at the beginning of January and now it's time for a proper look at the new media centre PC. Externally, the X200 is near-identical to the X100HA that we previously reviewed as it uses the same sleek case. So it's still absolutely tiny, with dimensions of 21 x 30 x 6cm.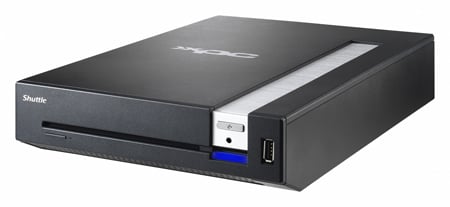 The small form-factor means that laptop components are used throughout, with the exception of a 3.5in desktop hard drive that is housed in a compartment on the bottom of the unit. This is a very practical approach as laptop parts are engineered to use a minimal amount of power while shedding very little heat, which is just what you want in such a compact case. However, it also means that upgrades won't be a practical proposition once you've configured your original X200M, and you'll be well advised to consider the Shuttle as a closed environment.
by Leo Waldock.
Contact Us if you've got some Tech News for thechangelab.
Posted by toshiya on Feb 07 2007 under
Tech News
|
Comments Off

on Tech News: PA Semi Releases System On A Chip, The 1682M
|