Agere revives Intel 'personal server' handheld concept
Chip maker Agere has launched what it claims is the first mobile content server, a gadget designed to be as capable of grabbing, storing and serving documents and media files as a PC is. But be a darn sight more portable.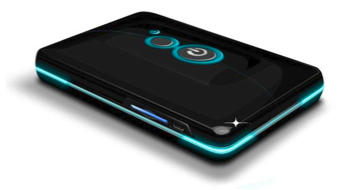 Called BluOnyx, the device contains not only storage – Flash or hard disk – but also an SD IO card slot, USB port, Bluetooth 2.0 and Wi-Fi for connectivity. There's a 600MHz processor running the VXWorks embedded operating system to give the unit the ability to crunch numbers and run the media streaming code, and a battery to keep it running when you're out and about.
by Tony Smith.
Italians give thumbs up to file sharingDownloading ok if not for profit
According to MSN, The country's top criminal court has ruled that downloading music, movies and software over the Internet isn't a crime if profit wasn't the motivation.
by Nick Farrell.
Lite-On ups DVD burner speed
OPTICAL DRIVE MANUFACTURER Lite-On IT has announced two new products to its line of 20x DVD writers, the LH-20A1S and the equally catchily titled LH-20A1PU.
The LH-20A1S is the world's verily first 20x DVD burner with a Serial ATA interface, brags the company, mentioning that the internal drive is designed for "advanced computer enthusiasts".
from The Inquirer.
Make the news come to youDecode the Web
Whether you're a news nut or just like to visit certain Web sites a lot, RSS can help you easily access up-to-the-minute information. These tips will help you get the most out of this technology. (If you're just starting out with RSS, see "RSS 101" for the basics.)
by Kirk McElhearn.
Posted by toshiya on Jan 24 2007 under
Tech News
|
Comments Off

on Tech News: Portable Server From Agere
|