'Power plants' in the basement heat up
A Massachusetts company next month will release a combination power generator and space heater, a system that can cut down on electricity bills, according to backers–at least while the heat is running.
by Marin LaMonica.
Toshiba HD-E1 HD DVD player
DVD looks sharp enough for close-ups, but things in the background are invariably a little fuzzy. Switch to HD DVD and everything is pin-point sharp across the entire frame. It's a bit like getting a new pair of glasses – everything looked fine before, but the world just seems so much more detailed afterwards.

In addition to HD content, the HD-E1 will also try its darndest at making your standard DVDs look their best by upscaling them to HD resolution. While this is a nice addition, it doesn't really add that much – it's nowhere near as pronounced as the switch between HD DVD and DVD. You're also limited to upscaling only on displays connected via the player's HDMI port – it won't do upscaling over a component-video link.
by Will Head.
Faster, safer Internet with OpenDNS
The domain name system (DNS) maps human-understandable Web site addresses into numeric IP addresses. Launched in July 2006, OpenDNS adds a few free services on top of the traditional DNS to block phishing Web sites and auto-correct common misspelled URLs. And thanks to some clever traffic routing and load-balancing technology, OpenDNS can also deliver Web pages faster.
by Mayank Sharma.
Building RISC OS for the Risc PC
RISC OS as it stands today was of course developed from a version that ran on the Risc PC, and there is no fundamental reason why it cannot still be built for it, either by digging back for old versions - the repository contains source code back to RISC OS 3.60 - or by mixing recent versions of high-level modules with Risc PC hardware drivers. HAL and non-HAL builds for the Risc PC were still being done regularly until about 2001, but no version since then has been tested with the Risc PC, although nobody has deliberately removed support.
from RISC OS OPEN.
Doctor Who Tardis USB hub materialises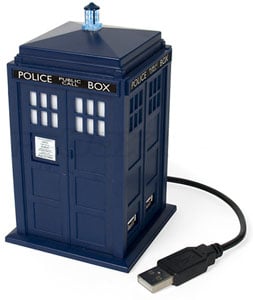 Assuming, of course, it doesn't suddenly pop off into the vortex where time and space are one, taking all your peripherals with it, we'd say this here Tardis four-port USB hub's a dinger and a must for the Doctor Who fan in your life.
by Tony Smith
Essential lockdowns for Layer 2 switch security
Failing to secure your switch architecture is like sending hackers an engraved invitation to attack your network. Yet security administrators often neglect to lock down Layer 2 of their network infrastructure. This comprehensive guide explains the essential procedures that will enable you to properly configure and secure your switch infrastructure.
by George Ou.
I Was a Cybercrook for the FBI
David Thomas ran one of the most popular online crime hubs, while the FBI ran him.
by Kim Zetter.
Google soups up Mini search
Google Mini is used by organizations to add search features to Web sites. Google Mini 2.2 uses technology from Google's public search engine, such as OneBox, which on the Web allows users to specify the type of data they are looking for; for instance, by typing "flight" before an airline's flight number. "So if I type in 'Invoice number 1234', that is a regular expression that the Mini 2.2 will recognize, and will go and speak to Oracle or SAP to retrieve the data," Solimene said.
Instead of indexing data held in enterprise applications, the Google Mini 2.2 talks to them through plug-ins and lets the enterprise application do the search. This means that the number of documents that can be indexed by a Google Mini 2.2 is still limited, at 50,000 to 300,000, depending on the model. Basic set-up is plug-and-play as before, said Solimene, but configuring the enterprise application plug-ins is more involved.
by Matt Loney.
Contact Us if you've got some Tech News for thechangelab.
Posted by toshiya on Jan 31 2007 under
Tech News
|
Comments Off

on Tech News: Power Plant In The Basement
|